Peer Review Week 2017 is only a few days away and so is our chance to celebrate you, the heroes of peer review!
On Tuesday, the 12th of September we'll announce the winners of Publons Peer Review Awards, honoring the 2017 Sentinels of Science and Research.
So. Much. Excitement!
Similar to last year, we will be rewarding the top 1% of reviewers in each field, as well as the top handling editors, and the top reviewing institutions and countries on Publons.
But the fun doesn't stop there: this year we'll also announce the top reviewers for top journals, the top post-publication peer reviewers, and the most highly-rated peer reviewers.
Find out more about each award category here.
The most-highly rated reviewers award is dedicated to the experts who go above and beyond with their outstanding reviewing contributions. Thanks to their comprehensive, timely and informative reviews (as rated by their editors), they help to ensure the highest quality, most impactful research is communicated to the world faster - and more often.
"Peer review is a crucial step in the scholarly publishing process, and it is important to acknowledge exceptional peer reviewers or those revolutionizing and improving the peer review process" -Nicole Nogoy, GigaScience
We have lots of medals and certificates to give away next week so stay tuned, and keep your eyes peeled for all our other Peer Review Week festivities. We have hot tips, videos, Q&As, aannnd hey - what better way to celebrate the week ahead than by writing a peer review?!
Sentinel Award Shortlist
We have now revealed the shortlist of our first-ever Sentinel Award!
In no particular order, the 2017 nominees for outstanding advocacy, innovation or contribution to scholarly peer review, are:
Retraction Watch, Committee on Publication Ethics (COPE), American Geophysical Union, Michèle B. Nuijten for StatCheck, Irene Hames, ORCiD, F1000Research, Kyle Martin and his then supervisor Gareth Fraser.
We'll be announcing the ultimate recipient of the award on Tuesday the 19th of September.
Until then, you can read more about all the nominees and how they're working towards a better peer review system, here - and stay tuned for our individual Q&As with the winners, published throughout Peer Review Week (11th to 17th September).
Our shortlist was handpicked by our expert panel of judges from across the publishing industry, and they will also vote on the winner:
From top left our judges are: Andrew Preston from Publons, Tessa Picknett from STM Journals, Alice Meadows from ORCiD, Stephanie Dawson from ScienceOpen, Phil Hurst from Royal Society, Nicko Goncharoff from Digital Science, and Nicole Nogoy from GigaScience.
(Read more about our judges here).
We're really excited our judges picked such an great mix of individual reviewers, career peer review advocates and experts. In their own way, each nominee has shown a dedication to improving peer review and propelling research forward.
What does an improved peer review system look like? For us, it involves a commitment to transparency (the theme of Peer Review Week and central to bringing a level of trust and efficiency to the peer review process) and better recognition for the efforts and expertise of peer reviewers across the globe. (You can read more on this, here).
""Peer review is so critical to scholarly research and therefore scientific and social progress. Yet the work of reviewers goes largely unrecognised when considering the impact and contribution of individual researchers or entire institutions. The Sentinel Award will hopefully be another step toward getting the research community to more formally assess and acknowledge the value of reviews and reviewers." - Nicko Goncharoff, Digital Science.
Head over to our Publons Peer Review Awards page now and get your happy feet ready - we've got sooo much to look forward to this Peer Review Week and beyond!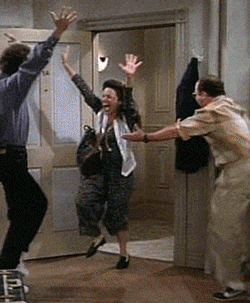 Our Publons Peer Review Award sponsors are: